Printable PDF for our career transition services.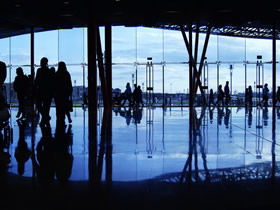 Are you looking to change careers or continue a career that has been interrupted? We find ourselves in a time of greater demand for organizational performance.  At the same time finding the career you desire often requires "one more thing to ensure success."  Working with our consultants and credentialed coaches along with using the best tools will position you for success. The Golden Course for Career Transition℠ can help you win with its two powerful components:
The Golden Course℠ modules are written specifically for those in transition. Golden Career Strategies has cut through the mountain of information available related to job searches via books, the Web, and other sources to bring you the material most relevant to your situation. It captures the best, most current information available for those in transition.
Each step of your search is supported by individual coaching from experienced professional coaches who specialize in specific aspects of career management. GCS career coaches and consultants will enhance your efforts by providing expert guidance, feedback, accountability, and support for dealing with the inevitable ups and downs of a significant life change.
All course work has been updated as of 2021 and new information has been included. Printable PDF for our career transition services.
The Golden Career Course℠ Modules:
Career Preparation
Each step of your search is supported by professional coaches and consultants who specialize in specific aspects of career management.
Our track record shows that the most critical keys to the effectiveness of a Golden Career Strategies Career Professional are based on the fact that GCS is customized, individualized, and localized, and now global.
GCS services are customized.
Programs can be tailored to fit your needs
We help you choose the program that is best for you
Our programs are designed to add structure and accountability to your campaign through weekly appointments with an experienced professional
Career Development Roundtables offered on Monday mornings from 9:00 to 10:00 AM provide powerful discussions for personal and career development and networking contacts in a supportive group setting
GCS services are individualized.
You receive one-on-one coaching and consulting geared toward your future goals
Sessions are confidential
Private office setting
Flexible hours to work around your schedule
GCS services are localized (and now global).
You have access to "The Golden Network" in the Upstate and beyond
You can develop strategic connections through smart networking
Services are provided by experienced consultants and credentialed coaches
GCS has a worldwide network of coaches and consultants
Golden Career Strategies can help you:
Create a Powerful Network
A GCS professional helps you design an effective networking plan. In a poll conducted by the Society of Human Management (SHRM) and the Wall Street Journal's executive career site CareerJournal.com, 95% of both HR professionals and job seekers use personal contacts or networking to find candidates or jobs. Most candidates are not aware of the network they have at their disposal. A GCS career professional can assist you in developing strategic connections through smart networking.
Discover New Ways of Thinking
Our coaches will empower you to think of new ways to transition your skills, interests, and abilities. We can also help you explore a career path you have not considered or perhaps one that will be much more rewarding.
Energize Your Search and Offer Support
A GCS credentialed coach energizes your search campaign by providing personal support. Job searches can be overwhelming and sometimes depressing. Having a good support system will keep you motivated and focused. Finding employment is a full-time job. Falling into a low energy trap can be avoided by working with our certified/credentialed coaches to build your capacity for resilience.
Our coaches and consultants also serve as good sounding boards. If you left your last position due to downsizing, restructuring, or even a bad fit, you can vent your frustrations with your career coach. Carrying around a load of grief, denial, and anger will sabotage your efforts. To avoid "shooting yourself in the foot," we help you move beyond negative experiences and present a positive attitude. Your GCS professionals can help you shape a positive message and articulate answers to tough questions regarding your last position.
You can share your strengths, weaknesses, and uncertainties about your professional goals. Your coach will help you discover how to maximize your strengths and overcome your weaknesses. You can also discuss the pressures you are feeling with your career coach and learn powerful methods to minimize your stress, relieve your anxiety and build resilience.
Hold You Accountable
We help hold you accountable for how you spend your time. Having someone hold you accountable will most likely lead to landing your next position more quickly and efficiently than working independently.
Negotiate Your Best Compensation Package
GCS professional career consultants can help you negotiate your best salary and benefits compensation package. Some positions require an employment agreement with a bonus plan based on preset goals and objectives. Our professionals can offer suggestions and ideas to create a "win-win" situation.
The higher the employment level, the more sophisticated your compensation plan will likely be. Often GCS program costs are offset with consulting for the negotiation phase of your career transition. The program cost can also be offset by securing your new position faster than you would have on your own.
Enhance Your Performance
Our professionals can help with onboarding after you have found your desired position. In addition, many GCS clients have found that continuing a coaching relationship enhances their job performance and accelerates the further development of their careers.
Other Services:
Many GCS clients wish to take advantage of additional coaching to enhance job performance and accelerate career development. If you would like more information, please visit our extended coaching services page.
Golden Career Strategies offers career transition services for:
Professionals contemplating retirement
Individuals returning to the workplace
New residents to the Upstate
The "trailing spouse"
Trailing spouse of an expatriate
Entrepreneurs: Comprehensive support to create your own business venture.
Professional Coaching or Consulting – individual sessions or packages
Please contact Stacey to learn more or to schedule a complimentary consultation.
Stacey@GoldenCareerStrategies.com
864-527-0425