Are you ready for a career with a purpose that speaks to your passions?
Golden Career Strategies helps professionals pursue their dreams of using their skills, experience, and knowledge to create new "retirement" careers that put all that hard-earned wisdom to work.  The idea of an Encore Career is a uniquely 21st-century concept and it represents a massive shift in the old 20th-century paradigm that says you retire at age sixty-five and spend your (short) Golden Years enjoying the benefits of your 30-40 years of previous work.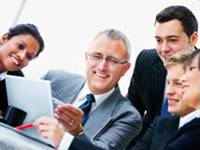 The bottom line is that the old paradigm was based on an average life expectancy of approximately 70 years.  We no longer live in that world!  The average life expectancy is approaching a full century and we are learning that it's neither practical nor enjoyable to have a "retirement" period that is as long as (or sometimes longer than) your career life!
The answer: an Encore Career!

Encore Careers:  where having a job for continued income meets personal meaning and positive social impact.
According to the 2008 MetLife Foundation/Civic Ventures Encore Career Survey, between 6 percent and 9.5 percent of Americans, ages 44 to 70 are already in their encore careers, even if they don't yet use that term. That puts the population of Encore Nation between 5.3 million and 8.4 million.
Further research indicates that in spite of the deceptive current rate of unemployment, there is actually a labor shortage in the United States and that workers over 55 years old will be the key to closing that expected gap.
Golden Career Strategies understands the impact of helping individuals discover their encore purpose and developing a strategy to move forward into a bright future.
"We need a call to action for creating an "encore" stage of life characterized by purpose, contribution, and commitment, particularly to the well-being of future generations. But inventing a new stage of life won't happen by itself, easily or automatically, even as the soil becomes more fertile and conditions increasingly ripe. If we act, the new stage could well become a destination, even the new crown of life, and the individuals flooding into it the human-capital solution to much that ails us in this society." –from The Big Shift by Marc Freedman