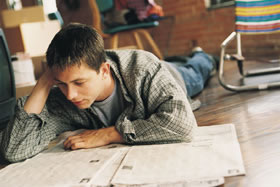 Are you a young professional or a recent college graduate? Get your career off to the right start with CareerStart℠.
For several years the supply of new college graduates seeking employment has exceeded the demand in the employment market.
What does this mean for you? One very simple thing:
You need to stand out above the pack!
That sounds like a pretty tall order! Fortunately, helping you stand out above your competitors in your career search is what CareerStart℠ is all about. On average, clients of Golden Career Strategies find jobs 50% faster than the typical search without assistance.
CareerStart℠ will help you…
Focus on who you are and what you have to offer employers
Prepare for a very competitive job market—become "market-ready" by developing not only skills but also a localized network of contacts needed for success
Differentiate yourself through a compelling resume and expert interviewing skills
Evaluate job offers and select the position that is the best choice for you
Develop personal leadership skills that will not only help you land the position you want but also boost your performance once you're in the job
CareerStart℠ includes two powerful components: the course modules and individual coaching.
The course modules are written specifically for the young career seeker. Golden Career Strategies has cut through the mountain of information available related to job searches via books, the web, and other sources to bring you material most relevant to your situation. It captures the best, most current information available for graduates entering the workforce.
Each step of your search is supported by individual coaching from experienced professional coaches who specialize in specific aspects of career management. GCS Career Coaches will enhance your efforts by providing expert guidance, feedback, accountability, and support for dealing with the inevitable ups and downs of finding your first position.
Course Modules:
Bonus!! 90-Day Evaluation
Golden Career Strategies' support of your career success does not end when you land a position. The CareerStart℠ program includes a coaching session to provide tips and strategies for success before your first 90-day performance evaluation.
Other Services
Many GCS clients wish to take advantage of additional coaching to enhance job performance and accelerate career development. If you would like more information, please visit our extended coaching services page.